Big V-shaped recirculated bobbin creel is assorted with direct warping machine for chopped fiber. Its advantages include shorter creel body, no thread carrier between frame and creel, especially adapt
Keywords:Super-High-Speed Direct Warping Machine,Smart-high-Speed Sectional Warping Machine
Inquiry
---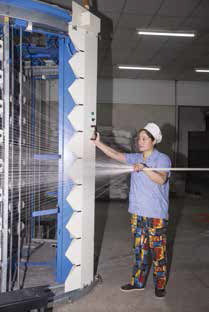 General Overview
Big V-shaped recirculated bobbin creel is assorted with direct warping machine for chopped fiber. Its advantages include shorter creel body, no thread carrier between frame and creel, especially adapted for some chopped fibers which are sensitive to friction, working under low tension and high speed, be favorable to reduce tension difference of yarn and end breakage when warping. The interleaving creel optimizes the space utilization. The inner side of v-shaped creel could store bobbin, which is convenient for operation. The bobbin changing time is short so that can save idle period for warping machine. This kind of bobbin creel is especially fit for high speed warping.
Cut-off device
The yarn cutter can cut off yarns upon the change of yarn batch. The yarn cutter is provided with the electrical blade and cuts off all yarns with movement of creel in one cycle. (patented technology)
Technical Features
1. Way of bobbin changing: put the bobbin in the inside of the creel in advance, change the bobbins collectively through driving and turning of endless chain.
2. Both sides of the creel is in V shape, adopting turning outside yarn guide type to guide yarn, no yarn carring plate, so the yarn founctioning freely and no yarn friction.
3. Breakage and monitoring:single spindle photoelectricity inspection,even the fine count yarn is also inspected accurately.
4. The broken-end electrical display per spindle row can show the row and the layer where ends are broken. It facilitates the handling of broken end and improves the production efficiency.
5. The yarn number preview function is provided. Press the Preview and implement the beaming. Then the total yarns distributed from bobbins will be shown for beaming. Compare it with the process setting and start the beaming only when two values are identical.
6. The tension difference in the back creel and front creel can be reduced by adjusting the angle through the tension roller. The minimum yarn difference can be gained through this nay. Another function of the tension roller is to unfasten the ties when start the machine again, which stopped when unreeling at high speed. It is good to high speed unreeling.
7. In order to avoide the yarn looseness when reducing the speed,every spindle has yarn clamp device, which can add soft brake to the yarn when starting and stopping.
8. Yarn cutting: manual, or power driven
9. Deduster: intermittent air blast.
10. Independent control casing is installed in front of creel.
Main specifications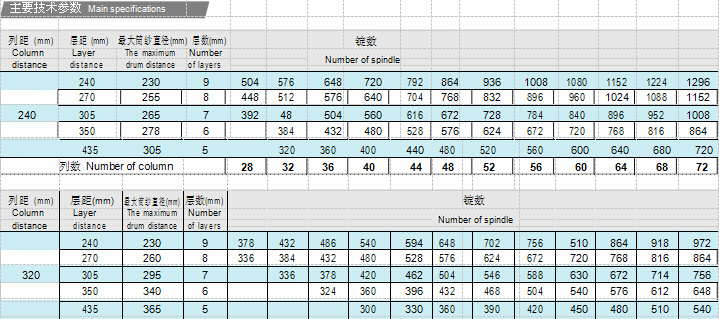 Constant thread tension, over the entire length and width of the warp

First-rate warp quality
The basis of the outstanding warp quality is a low and uniform thread tensile force and the free yarn route. The low tension level results in a gentle yarn draw-off and minimal end break frequency,positively influencing the subsequent sizing and weaving operations.

Contact us to learn more about our business solutions
Fill out the form below to receive news and industry insights about emerging products that are sent directly to your inbox