KGA215C Super High Speed Sectional Warping Machine
This machine is suitable for sectional warping of various kinds of yarns, including worsted yarn, high twisted synthetic filaments, yarn-dyed fabric, real silk fabric, towelling fabric and fabric in s
Keywords:Super-High-Speed Direct Warping Machine,Smart-high-Speed Sectional Warping Machine
Inquiry
---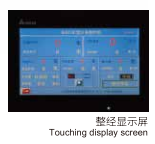 Scope of Application20171102143041_6301.jpg
This machine is suitable for sectional warping of various kinds of yarns, including worsted yarn, high twisted synthetic filaments, yarn-dyed fabric, real silk fabric, towelling fabric and fabric in special industry. This machine, which can match water-jet, air-jet, rapier and projectile looms, is the equipment for preparation before weaving.
Technical Features
1. The traverse of warping operation panel is accurately controlled by servo motor. The starting point setting and stripe setting can be achieved automatically once by pressing the button.
2. The foward and back movement of warping operation panel is accurately controlled by a step motor, so that the distance bewteen space reed and yarn on drum is conslant and the distance is optional.
3. To keep the yarn on the drum can gain constant speed when winding and unreeling, the new technology, AC frequercy converter speed adjustment device, which controlled by computer to realize the stepless monitor, is put into parctice.
4. The machine is braked by an electro-mechanical-hydro-pneumatic device during warping. The beaming tension control adopted external steel strip damping, which eliminates the noise and uneven tension problems occurred in the traditional caliper damping. The optional automatic power control system can be equipped according to the requirements.
5. By means of the advanced technology of microcomputer and PLC etc.,it has the memory function of counting the total length, cut length, strip and broken ends, and has auto-stop function when the total length or cut length is full or the end breaks etc.
6. The man-machine interface is a large screen TSS(touching sensor screen),which offers a clear picture, stores much information and operates easily.
7. The movement of the frame on the rail is controlled by servo motor, with the cross reed and bobbin creel fixed. So the stripes keep in linear shape and yarn tension is constant during the process.
8. The joint of the steel drum and the high precision servo motor is almost perfect enough to suit any type of warping.
9. Two types of beaming part are available.
◆The first one, with the whole part movable, can match different types of warping part, waxing oiling device or press roller can be added.
◆The second one, fixed type, is simple structure and easy operation.
◆According to the customer's request, different bobbin creel, spindle number and spindle pitch can be made.
10. Two post tension device, Three post type tension device and flying rings type tension device are available.
11. Warp stop motion and static eliminator is optional.
Contact us to learn more about our business solutions
Fill out the form below to receive news and industry insights about emerging products that are sent directly to your inbox