KGA301 Beam Connecting Machine
The machine is suitable for cascading of beam and long axis of tricot machine for automatic connection and pull-out. It's suited for different diameters despite the long or short beams. And it's widel
Keywords:Super-High-Speed Direct Warping Machine,Smart-high-Speed Sectional Warping Machine
Inquiry
---
Scope of Application
The machine is suitable for cascading of beam and long axis of tricot machine for automatic connection and pull-out. It's suited for different diameters despite the long or short beams. And it's widely used in Knitting Machine, Warping Machine & Lace Machine.
Technical Features
1. PLC Control made by Simens. Speed of beams connecting is through: Frequency Conversion.
2. It's appropriated for kintting machine's or warping beams in different diameters.
3. It can be used for short beam connecting or long beams pulling out.
4. There're ball bearing on the both sides of this machine base.When kintting machine's beams or warping beams are putted on the shaft seat, they can be turned at any angles easily.
5. Long beam holder base can be up and down automatically according to different plate's diameters.
6. There's signal inspection in the moveable electronic box. When the long rod moves to the end, this machine will stop by itself.
7. Many Sensors are used in the machine to provide security protection during working.
8. This machine connects beams by a remote control. It can help factories to save time & labor in beam connecting progress.
Main specifications
1. Total Weight: 1900kgs.
2. Beam Plate's Diameter:≤30 inches.
3. Maximum of Pan Head: 6PCS.
4. Main Motor Power:0.37kw. Reduction Ratio: 1:50
5. Frequency Conversion Power: 750w.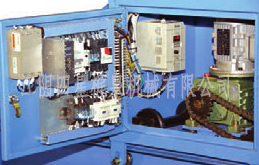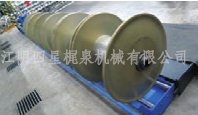 Contact us to learn more about our business solutions
Fill out the form below to receive news and industry insights about emerging products that are sent directly to your inbox