KGA281 Cone Winding Machine / Rewinder
使用范围  本机主要用于将球经染色的分经盘头色纱,直接集体退绕络成筒子纱,具有卷装大、接头少、色差小、不磨纱、上腊均匀、成型好、便于退绕展开的特点,可以充分满足和适应针织牛仔面料用纱的要求。 主要技术特征1、经PLC控制,经轴、退绕、制筒,分别实现伺2、彩色触摸屏显示,带U盘插口,可将客户名称,轴号,合同号,操作工,经长等数据直接输入电脑。服控制,前后单元同步稳定。3、制筒速度:0-130m/mi
Keywords:Super-High-Speed Direct Warping Machine,Smart-high-Speed Sectional Warping Machine
Inquiry
---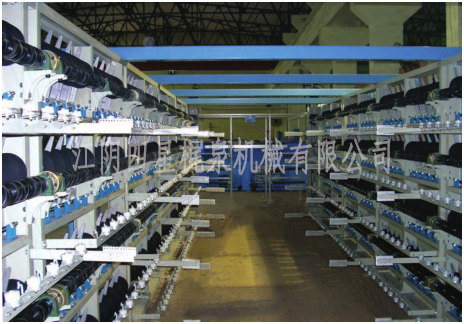 Scope of Application
It is mainly used to unwind dyed warp yarns directly into cheese.It features the great capacity, small color difference, zeroabrasion, even waxing, good forming and convenient unwinding.It can meet and adapt to requirements of jeans fabric yarn.
Technical Features
1. The PLC control can perform the servo control over beaming,unwinding and winding independently in order to synchronize the front and rear units stably.
2.The color touch screen is provided with port of flash disk. You can input the name of client, number of shaft, the number of contract, the name of operator, the length of warp and other data in the computer.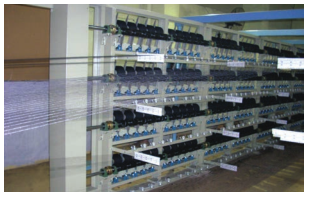 3. Winding speed: 0-130m/min, adjustable
4. The built-in infrared detector of broken yarn is sensitive and reliable and indicates the broken yarn.
5. Winding quantity per cycle: 400pcs (adjustable)
6. Beam:Φ1000mm head
7. It is provided with the waxing unit.
8. Adopt the electromechanical program control. Control the shaft feeding and discharging, yarn compression and brake pneumatically.The warping beam is closed normally. If it is open, the machine is switched into the motor control.
Main specifications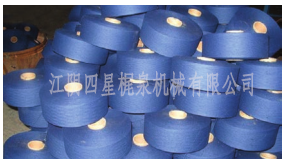 1. Suitable Yarn Count: 18-98'
2. Working Width: 1600mm,1800mm
3. Beam Plate Diameter: 800mm,1000mm
4. Speed of winding: 0~130m/min
5. Length of winding: 20S yarn 35000 meters
6. Number of head in winding: 400-600 (user defined)
7. Operation monitor: 5.7" touch screen
8. Input voltage: 3x380V±10%
9. Motor power: 3 KWX3
10. Machine weight: 7000kg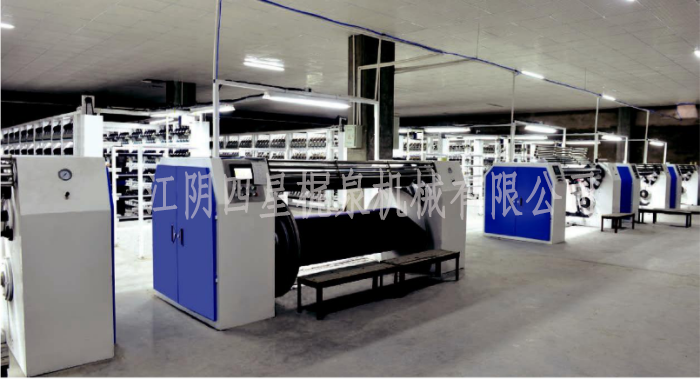 Contact us to learn more about our business solutions
Fill out the form below to receive news and industry insights about emerging products that are sent directly to your inbox